Wood boy dog fish
"A BREATHTAKING FEAT OF THEATER… wildly imaginative… A dizzying fusion of sound, lights, puppets, masks and music… the Pinocchio puppet is a spectacular creation." —Los Angeles Times
"RECOMMENDED… STAGE RAW TOP 10… a toy-box of visual wit" — Stage Raw
"BLEW ME AWAY… delightfully dark in all the best ways…one show you do not want to miss." — Horror Buzz
May 12 – June 24, 2018
Performances: Fridays at 8pm, Saturdays at 8pm, Sundays at 3pm and 7:30pm
Tickets: $45 - $65
$25 RUSH TICKETS EVERY NIGHT for
Students and Actors Equity Members 30-minutes before the show.
$15 Hollywood Fringe Discount: If you are a Hollywood Fringe participant, audience member or supporter, bring your button, program, or ticket to the box office to receive $15 OFF Wood Boy Dog Fish.
Location: Garry Marshall Theatre, 4252 W Riverside Dr., Burbank, CA 91505
RATED PG-13 for Mature Content
Written by Chelsea Sutton with Rogue Artists Ensemble
Original Music by Adrien Prévost
Directed by Sean T. Cawelti
In this delightfully macabre take on The Adventures of Pinocchio, the cricket is killed, a blue poltergeist haunts us all, the legendary Dogfish monster preys on our greatest fears and a little wooden puppet struggles to discover what it means to be real.
This new production of Wood Boy Dog Fish is more dangerous and immersive than ever before, with new scenes, music, puppets, masks and special effects. The action is set in the tumbledown town of Shoreside, a tourist trap built around the legend of a terrible sea monster — the Dogfish. The Wood Boy Dog Fish experience begins one hour before show time, just inside the gates of the Garry Marshall Theatre. Audiences are immersed in the mysterious and quirky carnival world with games, food, drink and surprises before they even find their seats.
Wood Boy Dog Fish is a visual feast that combines masks, highly expressive physical performance, dance, interactive sets, multiple puppetry traditions, projected media and sophisticated special effects and illusions — including 3D enhancement — to transport audiences inside an old carnival ride.
"WOW!... DELICIOUSLY TWISTED… terrific news for those who like their fairy tales dark and dirty and theatrically magical." — Stage Scene LA
"SPECTACULAR... amazing visuals… a heartfelt illustration of the redemptive power of love." — Broadway World
"A THRILLING spectacle of sight and sound" — Ivan Steel Presents
"A WILD AND ZANY RIDE… astounding costumes and masks, original music and phenomenal stage effects" — LA Splash
"FANTASTIC… UNIQUE… truly top notch" — Nightmarish Conjurings
MAD INVENTIVENESS… magically combines its [grim] vision with buoyant comedy and colorful spectacle… an overwhelming sensory feast… a dazzling romp through the dark side" — Theatre Ghost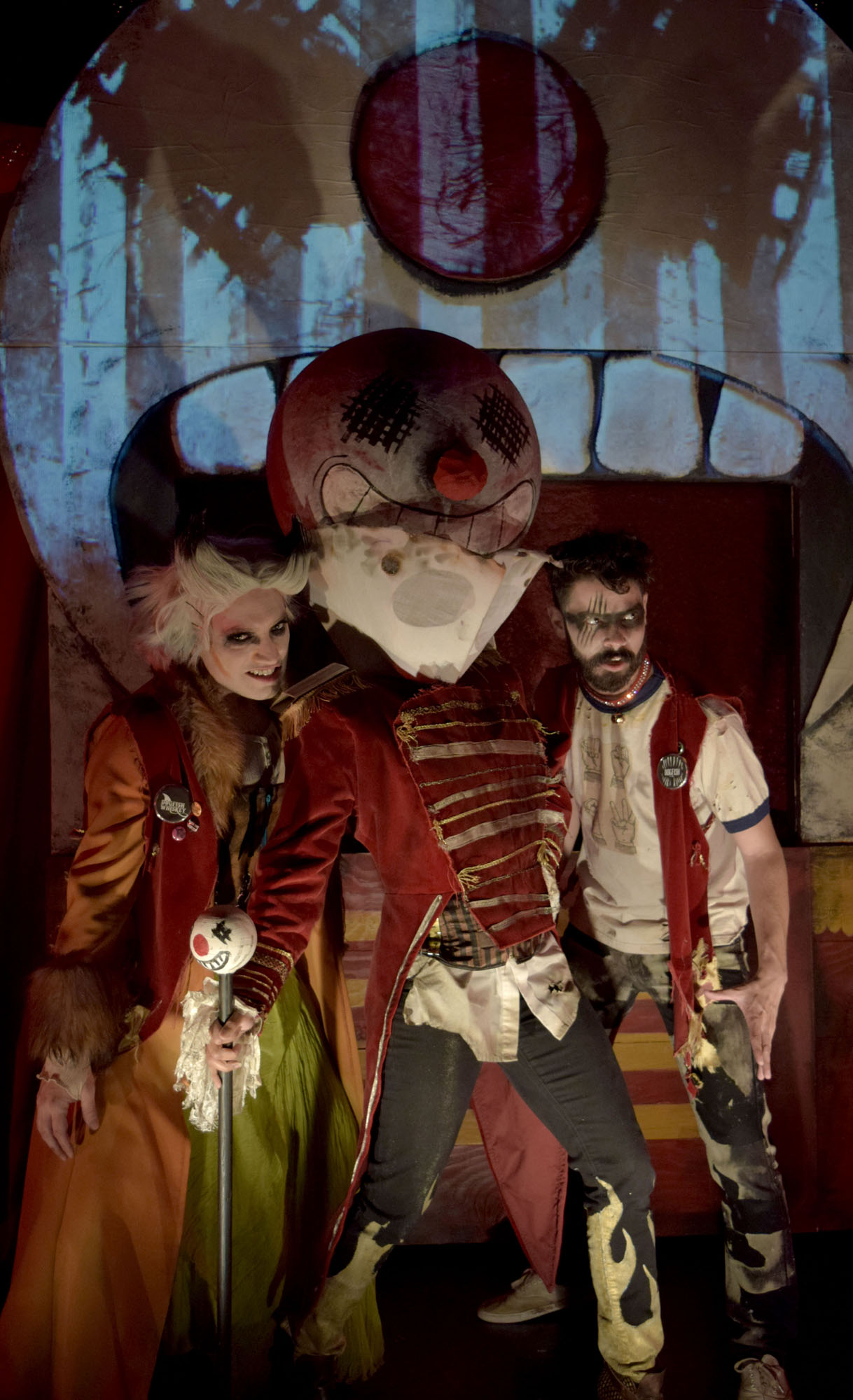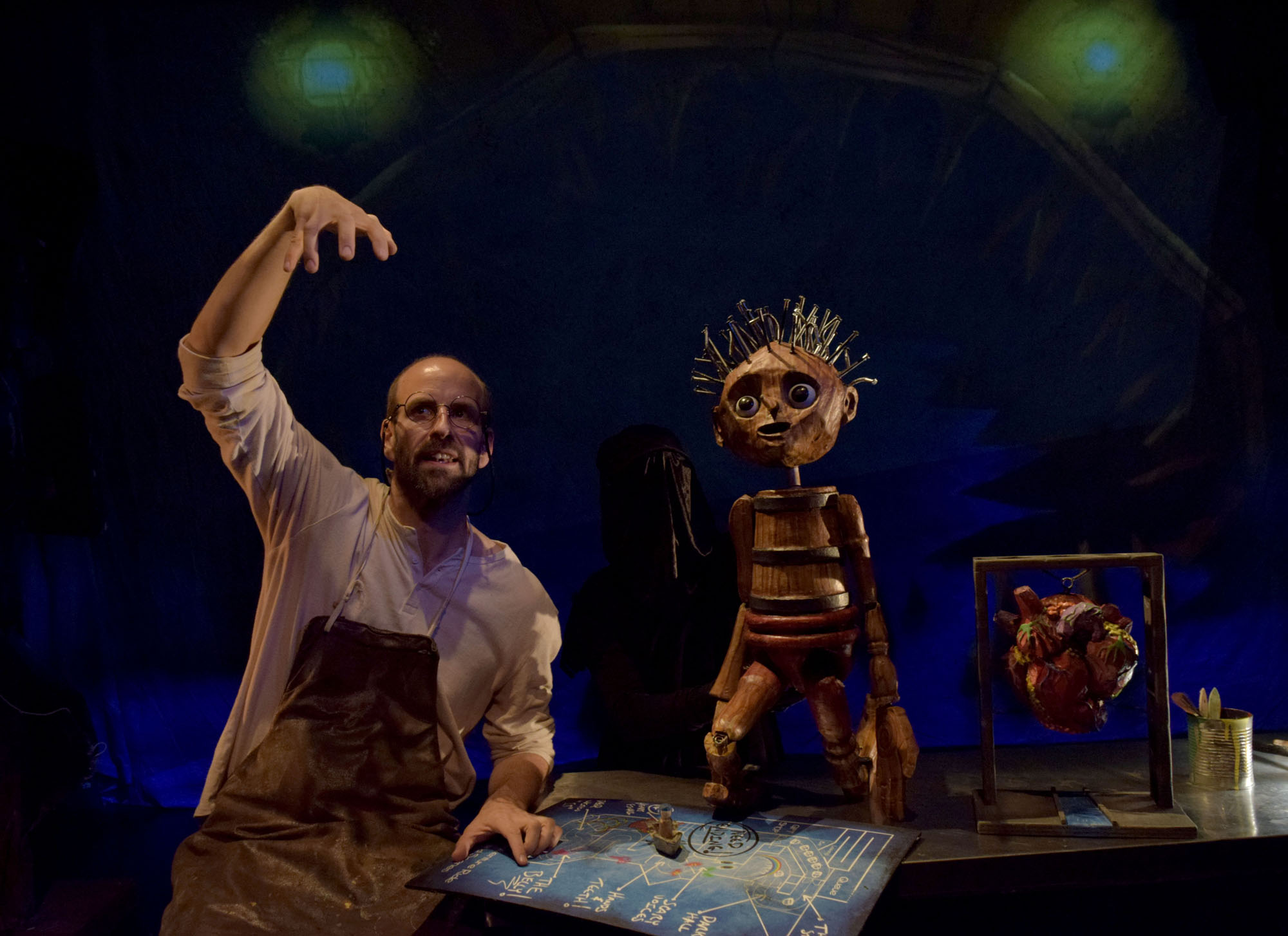 The powerhouse ensemble cast features Tyler Bremer as Cat, Lisa Dring as Wick, Tane Kawasaki as Blue, Amir Levi as Fox, Rudy Martinez as the titular Wood Boy, Ben Messmer as Geppetto, Sarah Kay Peters as a puppeteer, Keiana Richàrd as the Fire Eater, Mark Royston as a puppeteer, Miles Taber as the MC of Funland, and Paul Turbiak as the terrible Dogfish and the Cricket, and understudies Jaime Lyn Beatty, John Daly, JoBeth Wagner.

The creative team includes scenic designers Francois-Pierre Couture and Matt G. Hill, costume designer Lori Meeker, sound designer Steve Swift, lighting designer Joey Guthman, video designer Dallas Nichols, hair and makeup designers Joceyln Pazos and Erica Romero, prop designers Jason Anderson and Victoria Pamlenyi, choreographer Nate Hodges, and puppet and mask designers Greg Ballora, Sean T. Cawelti, Christine Papalexis, Jack Pullman, Morgan Rebane and Brian White.
The production team includes production manager Anil Margsahayam, assistant costume designer / wardrobe supervisor Jazz Hager, assistant sound designer Noelle Hoffman, illustrator Brian White, movement coach Jan Munroe, ASL consultant Shannon O'Donnell, stage manager Amanda Eno, casting director Jeremy Hohn.